The country Morocco has a lot to offer, it is famous for beautiful scenery, hospitable people, tasty food, and simplicity of life. Morocco is worth to travel as it is beautiful and simple. You can take Morocco travel package to travel Morocco. You must plan your visit to Morocco with family and friends.
We are discussing certain reasons things why you should take roaming Morocco tours.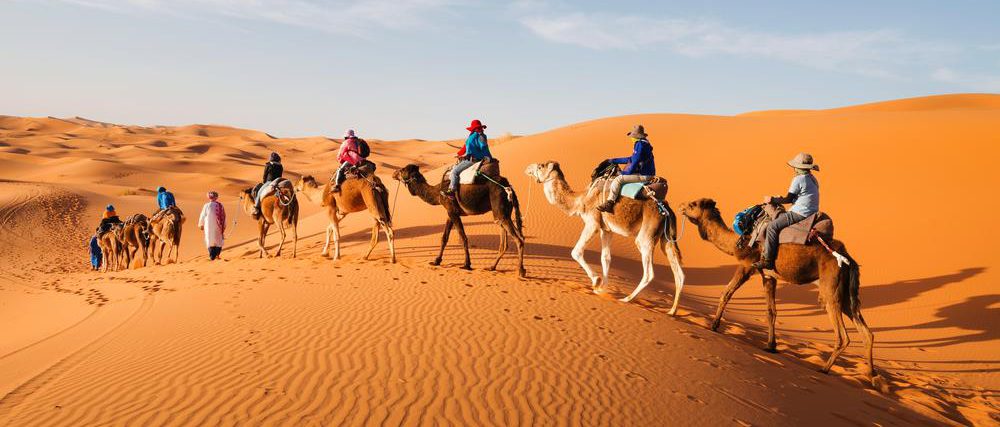 Hassan II Mosque
– is the landmark of Casablanca and the most beautiful mosque in Morocco. It is a very good experience to walk in impressive construction that is surrounded by the mist. Visit mosque on Sunday morning when many people come to prayer and place comes alive.
Majorelle Garden- It was built by French painter Jacques Majorelle, garden is a beautiful masterpiece that combine oriental colours and exotic plants. It is a very quiet place in the middle of Marrakech day trip. The busy imperial city of Morocco is the  house of the Berber Museum, lifestyle, exhibition of the Berber's culture and handcrafts.
The Riads- They are traditional Moroccan houses that are turned in small hotels. Feel cozy behind thick walls of the guest house after wandering on the narrow streets of the Medina. It is your time for indulging in all beautiful and simple things that Morocco has to offer such as excellent service, good food, and magical environment.
Medina- Walking in the medina is very really challenging for a woman. But the treasure hunting makes you feel exited with colourful babush slippers, jewellery pieces, leather bags, spices, tasty food and freshly baked bread. There are many items that you can select from, many of them handmade.
Moroccan mint tea and pastries– Tasting local pastries and mint tea is another thing that you must absolutely do while travelling Morocco. It is a good time when you enjoy, especially with pleasant company and good view. The tea is served and tastes the same but taste of pastries vary on the place. You will always have them for breakfast in hotel.
El Bahia Palace, Marrakesh- This palace has certain sadness that is difficult to explain. The refreshingly green garden and beauty of the architectural details make this place one of the top place to visit.
Morocco Interiors- Another Morocco's charms are bold house fixtures and cosy houses. The sofas are low and large, tables are small but enough for tasty food and refreshing tea. Lanterns create mysterious shade and the ochre tile colour makes the whole room look warm. The Moroccan interior design is rustic and is made with clear attention to detail.
Carpets- Everything in this country are in strong and warm colours with simple designs that fit in any style. Your house get a bright touch with Moroccan rug.
Landscapes– Pictures speak but you cannot get the true beauty of landscape in a photo. It is better to see it with your own eyes.
Oasis– You have to go out of the famous cities such as Casablanca and Marrakech to pass the Atlas Mountains. You can also take the unbelievable photos in orange and green colours. Oasis exist in Morocco, like at the time of Lawrence of Arabia. You can make a plan to do Morocco desert tours.
Colours- Morocco is a colourful country in the world. The colours are everywhere you go. The nature is full of reds, orange, and mulberry and ochre. The houses are overwhelmed with green. Also, the food is filled with gamma of colours thanks to freshly collected veggies and spices.
Cats– The funny thing about Morocco that you can be totally surprised with the presence of the cats. They were everywhere – at tourist sites, the town squares, hotel lobbies and in the corners of the Medina. And also like human being, they represent typical features of the habitats.
Architecture- Kasbah is a traditional style house in Morocco that is mainly built inside the Berber villages made from adobe, the ksar. You can see the villages at the foot of the Atlas Mountains while going to the Sahara Desert. The architecture and traditional techniques involved in the construction of the Kasbah are used for building Moroccan hotels.
Hotels with amazing views- Moroccan landscapes are the most beautiful in the world. They are changing with regions and also with the change of sunlight. Also, Moroccan hotel have a terrace with a wonderful view and your time for tea or coffee will last longer than you planned.
Todgha Gorge– Some places in Morocco are remarkable with the formations and colours. The orange rocks are stunning and scary. The canyon is a favourite place for climbers. Also, there is a small market where you can purchase beautiful carpets and handmade goods from local people.
Volubilis- They are Roman ruins in the green fields near Meknes. Morocco is no just about the desert and Arabic lifestyle but here had a different look..
Tajine– Moroccan food is the most favourite one that you cannot afford to miss. The reason why it is so tasty is the spices used and locally produced fresh ingredients. Tajine is also a method of slow cooking where ingredients are placed in an earthen pot
Moroccan Pottery- Tajine is also the name of the dish but also the pot that is used for its cooking. You can take one home with you, whenever you have a craving for Moroccan food you can prepare at home.
Hence, Morocco is all about the beauty and simplicity. DO make the plan to visit Morocco. You just cannot take your eyes from the magnificent scenery! The huge site is full of beautiful and small ornamental details with different architectural styles.