Ramadan is the holiest month of the Islamic calendar, in which all the Muslims In Morocco perform strict fast from water, food, all the liquids and smoking from sunrise to sunset every day. Ramadan occurs in the ninth month of the Muslim year. Every year Ramadan moves 10 days forward on the Gregorian calendar.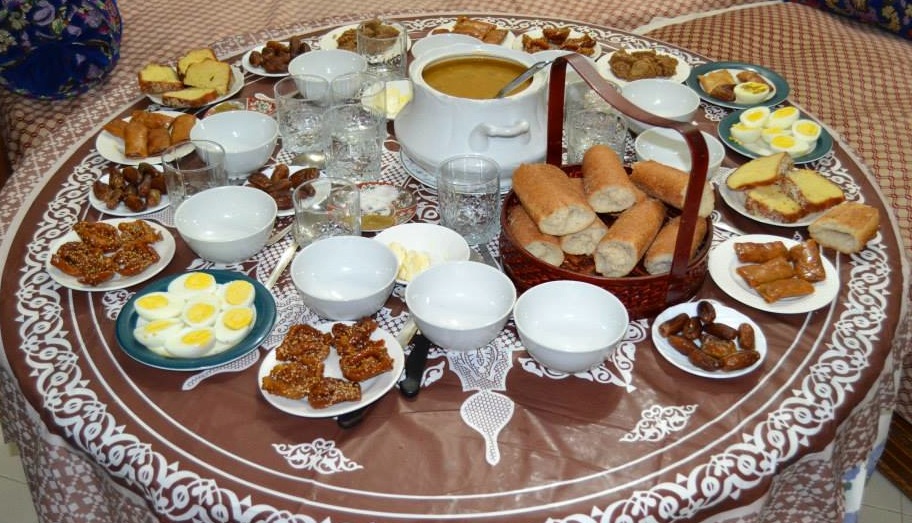 People break their fast after sunset after the 4th call to prayer by mostly having harira soup and chebakia.
There is confusion among many people, that, is it good to have a trip to Morocco during Ramadan?
Well, you all are already having the answer to this question. You just need to think over it.
According to me, there is no such boundation for tourists to visit in Morocco during Ramadan, but there are some specific things which you all must be aware of before planning your trip.
As there are some shops and restaurants that remain closed during this month. Or maximum shops usually close before sunset. And in the morning these shops are opened a bit late in comparison to their usual times.
In the day time, there is nothing to do for you because all the street shops are closed and the local people of morocco stay at their homes preparing food to break their fast. In opposite to this, evening time is the most happening and lively moment for all. For one whole month, their evening time looks like a festive time.
Before breaking up the fast, they perform their final prayers of the day. After that, all have their dinner around midnight, so it makes the delay for them to sleep.
These are their rituals which they perform during Ramadan.
So, now you have to think that what kind of a traveler are you.
If you want to visit there for having some party time, or you are a shopaholic person, then frankly it is a bad idea to visit there during Ramadan because maximum of their shops remains closed or if opened then only for limited hours. So it can be a kind of boring experience for you because you can't enjoy shopping there. Also having alcohol is illegal there during Ramadan. But this rule doesn't go for travelers, so you can still have alcohol but in rare restaurants and riads. We suggest you to try not to drink and smoke in public places, it may show disrespect to them.
But if you are a kind of person who just wants to experience a new cultural environment, then start preparing to have your affordable Morocco tours because Ramadan is the best suited time for you to visit Morocco.
And you can also enjoy Marrakech desert tours and have their adventurous activities, like camel riding, and bonfire.
During Ramadan, you will see extreme crowd in mosques where everyone praying to God. Here you will experience a perfect example of a religious environment. A beautiful feeling of purity you will have there because it is an Islamic country, the maximum population is muslim there, so everyone performs fasting during this month.
And if visiting morocco during Ramadan, then must have "Iftar", which is offered now in many restaurants. Iftar is defined as the food that Moroccan people eat to break their fast at the end of the day. Many traditional Moroccan foods are included in "Iftar". You will have the tastiest dishes in this meal. If you are a food lover, then this is the golden opportunity for you, because the food that is prepared during Ramadan, you can't find any other time during the whole year in Morocco. So, must grab this experience.
And during this time you can also enjoy the best Marrakech desert tours.
For your convenience, we prepared a list of good restaurants in Marrakech, which offers the best "Iftar" at affordable prices. Have a look –
Argana
Café Clock
Le Colisee Restaurant
Cassanova
Le Bistrot Romain
La Table du Marche
Le Maitres De pan
Zushi
La Mamounia
Royal Mansour
Sofitel
Four Seasons
Mandarin Oriental
Palais Namaskar
Marrakech food tours
These are some restaurants which are famous for their delicious Iftar meals. And are equally in your budget as well. The approx cost of each restaurant between 100 to 200 dherum. Absolutely worth full in terms of cost. So don't miss this list when planning to have affordable Morocco tours.
One thing always keep in mind, that non muslims are strictly prohibited to enter mosques, but this doesn't mean that you can't experience the religious purity outside the mosque. We suggest you to must experience it at least once because this month came only one time in the whole year and I have no words to explain the beauty and feel of the atmosphere of mosques during Ramadan. So better you should feel this in real. This time Mosques use loudspeakers, so you can hear the voice of people praying in it. We recommend you to must visit the famous and big mosques of Morocco like Hassan II in Casablanca and Koutoubia in Marrakech. You will make here uncountable memories during this time.
If we talk about the dressing style, you should wear covered clothes as much as possible, it is the way of giving some respect to the ritual. So, try to avoid uncovered clothes such as backless tops, miniskirts and shorts etc.
Many people have a curiosity to know, that is there any necessity to perform fast for tourists.
There is no rule in Morocco which says that tourist must also perform fast. You visit there to explore their country and enjoy some time there on your tours and holidays to Morocco. So no one will expect from you to perform the ritual. As many restaurants will remain open so you don't need to worry about anything regarding food.
Some people also think that their eating and drinking in front of the public will make them feel offensive, but it's not true. Local people and including our tourist guides, they all are used to and aware that tourists do not perform fasting, so there is nothing to worry about.
Hope this article is able to get away all your confusions regarding your trip to Morocco during Ramadan. The main motive of this article is to let you enjoy stressfully your tours and holidays to Morocco.